These are based on questions raised by my clients on a regular basis – there are actually many more than 4 so look out for a 2nd post in the near future.
The website designer will take care of "everything"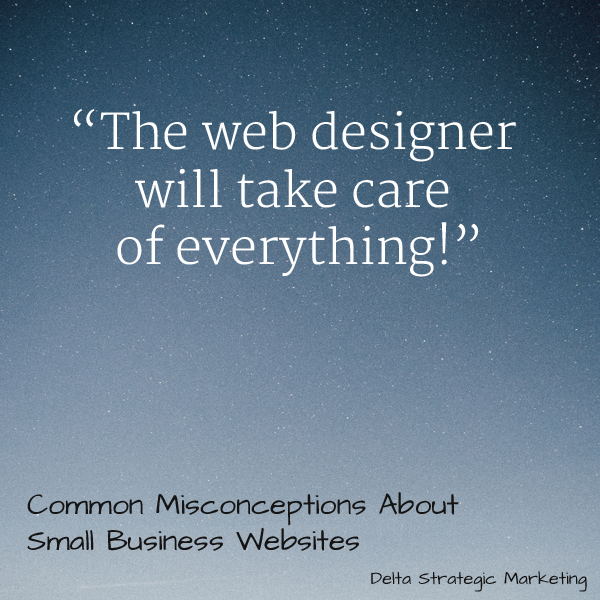 It's true that website designers do take care of many important components of your website – the design, the site structure, the techie stuff behind the scenes, etc. These are the areas where they are the experts. The one area where they are NOT the experts is in YOUR given area of expertise – we're not attorneys, or plumbers, or social workers, you are! So any content that's relevant to your area of expertise will have to come from you. In this context content means both the written word and any accompanying graphic elements (photos, logos, videos, etc). Not having content available to your website designer will inevitably lead to a long, drawn-out project.
A free or low-cost website is just as good as a custom-built website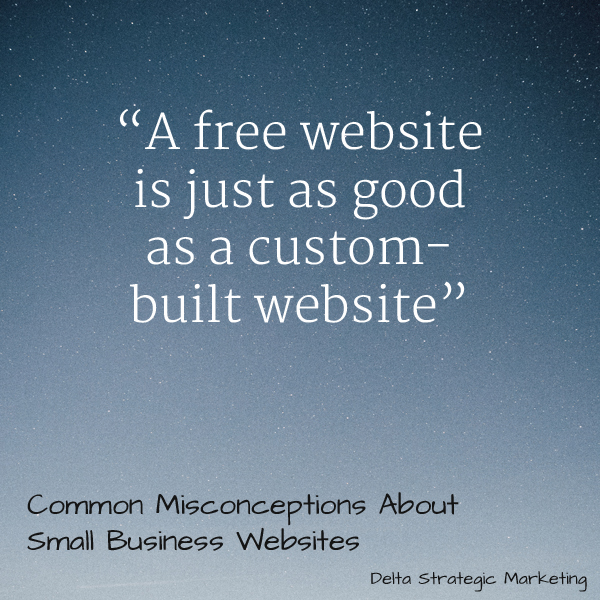 There are a bunch of options available to small businesses and start-ups that don't have money in their budget to pay for a professional custom-built website. Some of these services are "free". Others have low monthly fees. "Free" and "low-cost" are very appealing adjectives for small businesses. Here are three reasons why these might NOT be a good solution for you (there are way more than 3 but I only have so much time…):
Chances you'll be doing this on your own. Most of the free and low-cost options are based very much on a do-it-yourself approach. You'll be responsible for the design, you'll be responsible for placing and formatting all the text and images, you'll be responsible if things go wrong! It's also likely that you have better things to do with your time – like running your company and selling your products.
Free and low-cost sites are typically not portable. If your business grows and you ever want to move away from the free/low-cost site you'll generally have to start from scratch as the code your site is built on is proprietary to service provider. They don't want you to move and therefore make it as hard as possible to move off their service.
Closed, proprietary systems are notoriously poor for SEO. Search Engine Optimization is a big deal and these free/low-cost sites just aren't as well structured for being found by Google as other systems like WordPress and Drupal, which are both open source.
The day my website goes live the phone will start ringing / the orders will come rolling in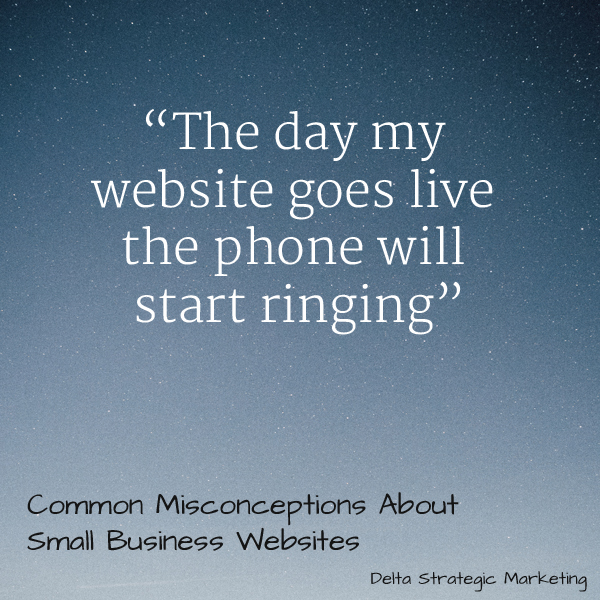 Back in the prehistoric internet times (circa 1990) this was possibly true – there were so many fewer websites out there that if you were promoting something chances are people would find it pretty easily. Fast forward to today and there are so many websites out there, all competing for space and attention that it's almost impossible for new sites to be found without a lot of additional work. This might include online promotion via social media and advertising as well as offline promotion such as traditional media ads and networking. Without this your brand new website will start to look like a plant that hasn't been watered – it will likely wither and die.
Cheap hosting is good enough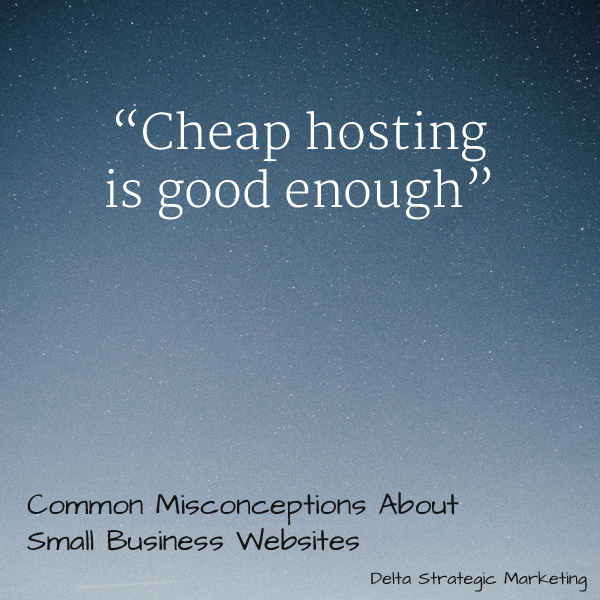 The adage "you get what you pay for" is completely applicable here – cheap (or free) website hosting tends to be no-frills, congested and prone to security risks. As with the free/low-cost website solutions above you're often very much on your own when it comes to sorting out problems. Free / low-cost hosting often comes with additional advertising to cover the hosting companies cost and they're generally very happy to up-sell you on all those extras that you assumed were included. Good hosting doesn't necessarily come cheap and good, managed hosting is even more expensive but think of it as additional insurance for your WEBSITE and your BRAND so that people can always find you and you never have to worry about talking to a server technician ever again!
If you have questions about your small business website and how its performing give Delta Strategic Marketing a call at 973-234-5623 and arrange your no-obligation review of your website (and marketing efforts). If you have your own misconceptions about websites please add them below – I'd love to hear from you and might use them in future posts.