When I started building and selling websites I never imagined that "maintenance" would ever be an issue. I understood how important it was to keep sites updated and fresh, surely as soon as I explained that to my clients they would see how important it was too. Right? Wrong!
There are a host of reasons why clients don't want to get involved with maintaining their sites:
It's too technical for them
They're too busy to get involved with it
They're too lazy to get involved with it (only a few very honest clients actually admit to this)
They prefer to pay a little extra to have a 3rd party keep track of everything and consider it just like an insurance policy in case anything/everything goes crazy!
I tell my prospects that there are two extremes with regards to the maintenance DSM provides:
At one end I have clients who from day one take care of everything for themselves; they handle all the updates, backups and blog posts. Their maintenance costs with me are zero – although, of course, their own time has a value.
At the other end I have clients who want me to do everything – website updates, backups, blog posts, social media management, pay-per-click campaign management, the whole 9 yards. Their maintenance costs with me are $1500+/month.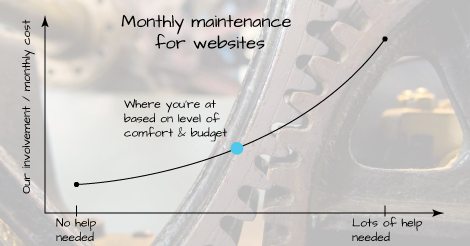 Between the two there's a sliding scale and I can assist at any point along the curve depending on the client's level of comfort and their budget.
Have an existing website that needs some TLC? Worried that your site isn't being maintained correctly? Give us a call today at 973-234-5623 and let's talk about your site and whether we can help with maintenance and updates.