While every small business person I meet has a different story that they want to tell and have very different needs for their new or revamped website there are questions that are very common among them. Here are 3 questions I get asked by almost every prospective client for a new website:
How much will a new website cost me?
Coming up with a price for a new website is not as straightforward as plucking a number from a price list. The price of a new website is dependent on so many things that this illustration conveys the range better than I can put into words: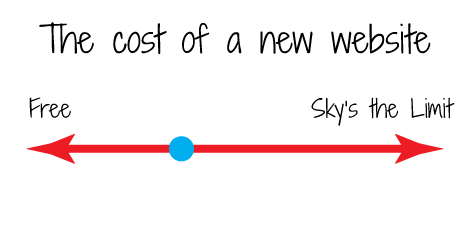 Yes – I know that's a bit flippant but it is very difficult to quote a price until a scope of supply has been determined, which is something most clients do not have. So my first task is to actually a determine a scope of supply and from there decide which items are and are not required. If people want a ballpark number I typically use my average price based on the previous 12 month's work while letting them know that there's a significant + and – swing possible around that number. If YOU need a ballpark today I would suggest that you budget between $3000-6000 for a professional-looking, easy-to-use WordPress based website – the range would depend on the number of pages needed and whether you need to include premium items such as an e-commerce module.
How long will it take until I get my new website?
This is another very tricky question to answer with an exact number or date. It stands to reason that a more complex, sophisticated site is going to take more time than a single page but that's not necessarily the best way to judge or estimate the time needed. I tell my prospects that as far as the actually coding is concerned it really doesn't take much time – a week or two at the most if I were able to concentrate on one project in one "sitting". But the reality is that never happens for a variety of reasons including:
Waiting for client to pay initial payment
Waiting for client to supply or approve logo and/or color scheme
Waiting for client to approve layout of website home page
Waiting for client to supply content for website
Waiting for other milestone payments
Vacations, weddings, other acts-of-God.
I know there's a lot of "waiting for client" in there but any web designer (in fact just about any designer of any persuasion) will tell you that this is the biggest hold-up on most projects. I typically quote a figure of 2-3 months to give both myself and the client some wiggle room – it can be done much faster if everything falls into place but unfortunately project lengths of 6 month+ are not uncommon.