I came across an interesting set of statistics the other day. The statistics refer to the rise of mobile internet searching:
All, obviously, point to the increasing importance of having an online marketing strategy that is mobile friendly – in plain-speak your website needs to be mobile responsive otherwise you risk being left behind.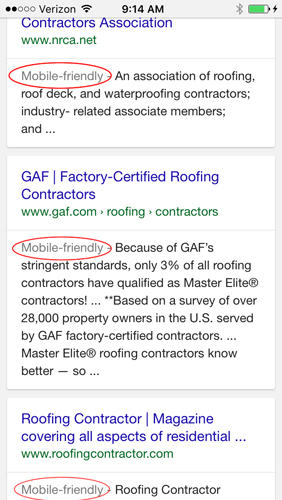 What's even more interesting from my perspective is how little most small business owners know about this. I sat with a prospective new client just yesterday and as is usual in my sales pitch brought up the topic of the new website being mobile responsive. "Mobile responsive? I never heard that phrase before", said the prospect. So I got out my iPhone and searched for her category in Google and showed her how Google now includes the words '"mobile friendly" right there in the search engine results page listing.
My anecdotal evidence suggests that less than half the small business websites I look at are mobile friendly/responsive and yet the small business owners I meet use their smart phones for tons of things during the day over and above making phone calls; reading emails, scheduling their own sales calls, searching online for everything & anything!
Why is there such a disconnect? Maybe they feel as though it doesn't 'yet' apply to them but of course it does – especially in light of #2 above where 61% of viewers won't come back!
Need a mobile responsive website or just not sure if your site passes muster give us a call today at 973-234-5623 and let's discuss your options.