I had a really nice meeting with a potential client a week ago. I was hoping to sell her on the concept of a WordPress based e-commerce site – that might still happen but she seemed pretty set on setting up her store on Shopify.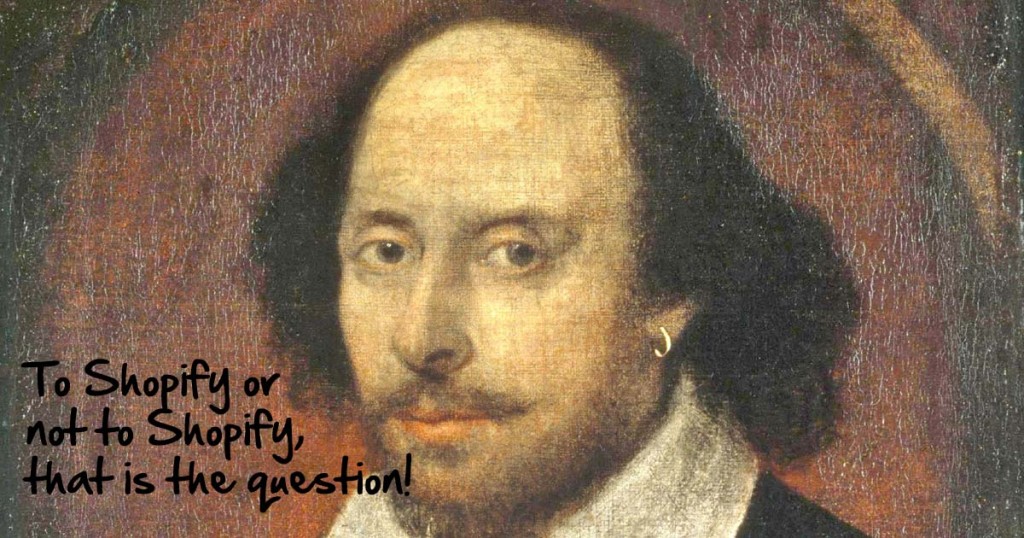 I'd heard of Shopify but hadn't really ever competed head-to-head against them before so as a service to her and to satisfy my own curiosity I scoured the 'net and came up with this list of pros and cons for Shopify and a WordPress based e-commerce site:
Shopify Pros & Cons
Pros
Cons
Fast to set up your own ecommerce store, 100+ templates ready to go
Monthly fee – most popular program currently charges $79/month, forever, whether you sell anything or nothing
Flexibility – store plus apps to cover all the bases
Transaction fee over & on top of credit card fees
24/7 support
Apps carry additional charges
Strong ecommerce backbone
Uses proprietary software:
Cannot be coded in the same way as a regular website
Is not portable – cannot be moved to other host

Takes care of all ecommerce issues; shipping, taxes, inventory etc
Intended for do-it-yourself operation – Shopify experts are available to build sites within Shopify for additional fees
Widely used by start-ups and some established brands
Limited blogging function – not good for building content
More than 243,000 users
Fee covers hosting
WordPress Pros & Cons
| Pros | Cons |
| --- | --- |
| World's most popular content management system, more than 60 million sites worldwide so very well supported | Not best for big ecommerce stores (~10,000+ items) |
| Stable ecommerce plugins (WooCommerce is installed on 1 million sites) | Potential security issues generally mitigated by updating and maintaining site |
| Simple to use for site owner | Support dependent on many factors (in-house or external, premium or free, etc.) |
| Built for content management and blogging | Requires hosting (monthly or yearly fee), hosting fees are generally low to start but can reach significant amounts if site sales grow |
| SEO friendly | Optional maintenance programs |
| Portable | |
| Once site is built there's no on-going payment required unless using a payment plan | |
I know this is neither exhaustive or particularly "scientific" but I presented it to my potential client with the hope that she'll enter into whatever she decides with a clearer idea of the whole picture. I'd love to hear your thoughts and experiences with Shopify.